Sorry if the noise kept you up, but that party at Tribeca's Locanda Verde on May 3rd was to celebrate SS+K's 19th anniversary. The partying spirit peaked when it was announced Kate Rothen had been made a partner and John Swartz a senior VP.
Kate runs the consulting group and some of SS+K's most significant accounts, and she does all with exceptional talent, dedication and integrity. John runs production at SS+K, which means he's the calm amidst the storm of a very busy agency. He's raised our game in ways that are reflected in things like, well, those One Show pencils.
The party's over, and Kate, John and the rest of us have our hands full gearing up to launch cool new work for clients like Pfizer, jcp, Kraft and College Board.  And, to top things off, we were named Political Agency of the Year by OMMA.
That's all for now. Thanks.
Top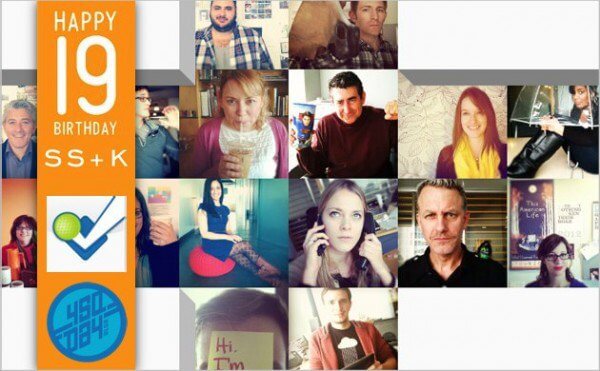 Today is the (the SS+K's 19th birthday (where I work), and coincidentally it's also Foursquare Day.
Some background first: my co-workers and I happen to be somewhat obsessed with Foursquare. We have 18 different micro-locations in our office, and people are constantly battling for mayorship- so much so, that last year we created our own Mayorshup, a Risk-board of sorts for SS+K'ers to battle each other for supreme SS+K office mayor.
So a few weeks ago we had an idea for celebrating SS+K's 19th Birthday and Foursquare Day at once- we'd create the first ever Foursquare-powered birthday card. When someone checks in to any of our office Foursquare locations, they "sign" our card by adding their Foursquare profile picture to our emblem, and adding their username to our card. The card is of course viewable online on our site, and also is being displayed on a giant lcd screen in our cafe.
Top