SS+K's Foursquare-powered Birthday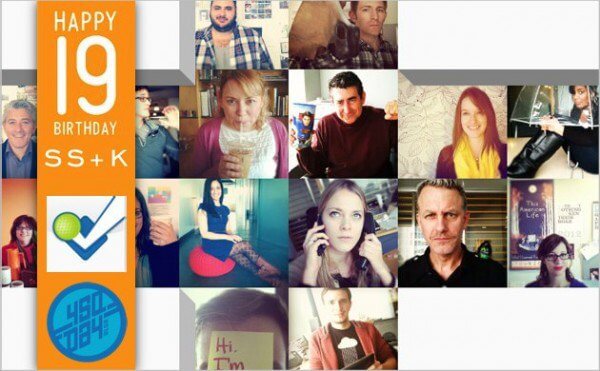 Today is the (the SS+K's 19th birthday (where I work), and coincidentally it's also Foursquare Day.
Some background first: my co-workers and I happen to be somewhat obsessed with Foursquare. We have 18 different micro-locations in our office, and people are constantly battling for mayorship- so much so, that last year we created our own Mayorshup, a Risk-board of sorts for SS+K'ers to battle each other for supreme SS+K office mayor.
So a few weeks ago we had an idea for celebrating SS+K's 19th Birthday and Foursquare Day at once- we'd create the first ever Foursquare-powered birthday card. When someone checks in to any of our office Foursquare locations, they "sign" our card by adding their Foursquare profile picture to our emblem, and adding their username to our card. The card is of course viewable online on our site, and also is being displayed on a giant lcd screen in our cafe.